Vascular Sonographers
The most important component of any vascular ultrasound practice is its sonographers. Having experienced vascular sonographers is critical when it comes to assessing what may seem to be even the simplest vascular quandary – each of our sonographers has at least 25 years of specialised vascular ultrasound experience.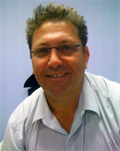 Michael Cuzzilla
DMU (Vasc) AMS RN
Technical Director
Michael has vast experience in vascular sonography. He has been engaged throughout the technical developments in vascular sonography in developing his skills in this area for 27 years. His experience has been solely directed to all aspects of venous and arterial disease ultrasound diagnosis and follow-up and he is looked upon by his colleagues as a leader in this field.
Michael has a nursing background and is acutely tuned to the needs of physicians, surgeons and general practitioners to have timely and accurate diagnosis in this important area of vascular disease recognition and appropriate treatment. Michael has excellent communication skills with regard to recognition of important findings and their relay to the appropriate practitioner.
Michael is a principal force in the formation and drive behind Kuring-Gai Vascular Ultrasound becoming the definitive vascular ultrasound service in the area. Any questions about the services we can provide and any urgent issues can be safely discussed with Michael who is acutely aware of clinically urgent patients and can provide an excellent link to appropriate early intervention.